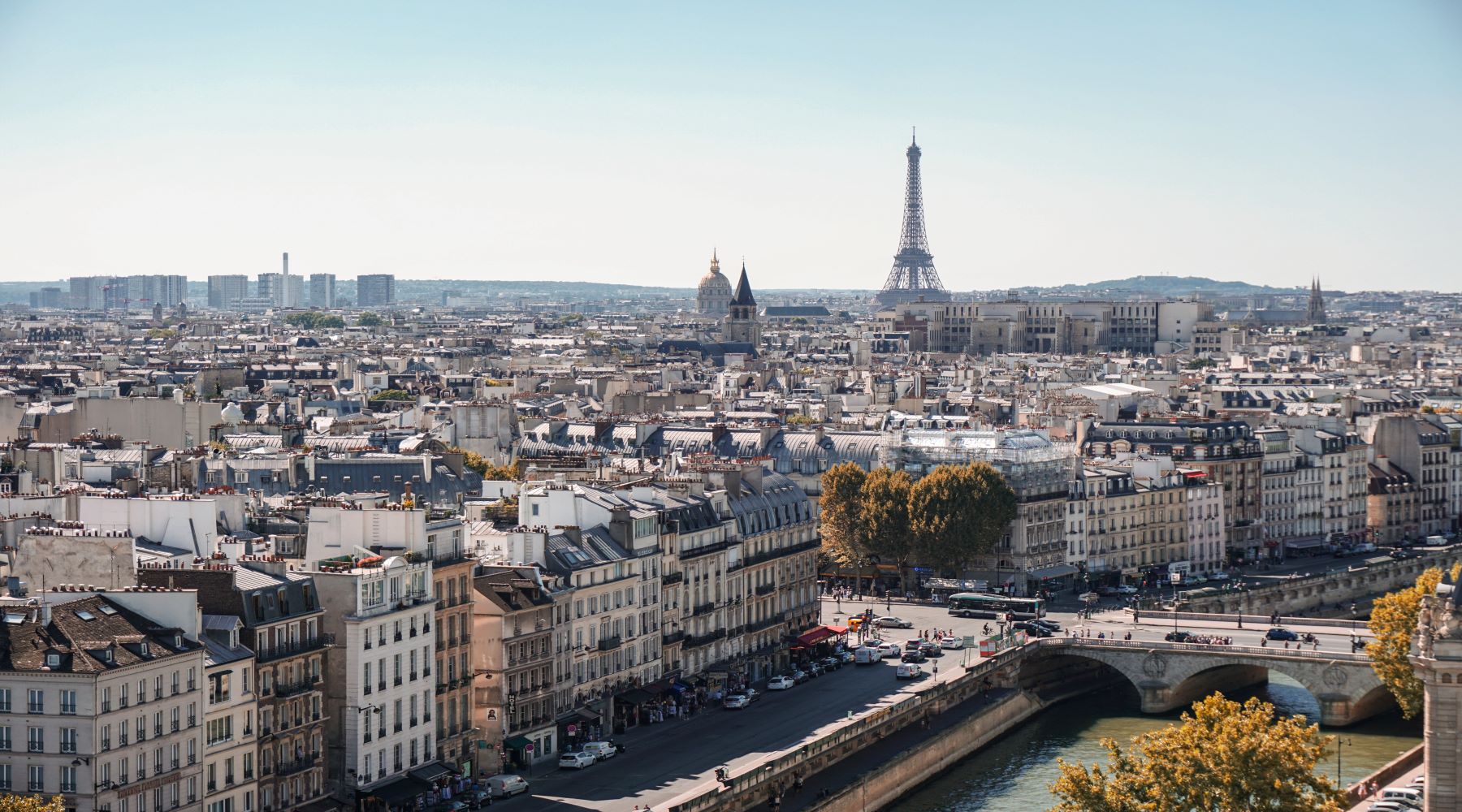 Best Place to Live in Paris for Tourists
21 August, 22
Paris is without a doubt one of the most beautiful and visited cities in Europe. There are a lot of attractions to visit in the city, from famous landmarks like the Eiffel tower and the Notre Dame cathedral to museums, designer shopping stores, and gastronomic restaurants.
Paris is also one of the largest cities in Europe. The city is divided into smaller towns or administrative districts known as arrondissements, each with a unique look and charm.
That said, choosing where to stay in Paris is overwhelming, whether it is your first time in the city or you're returning to enjoy more of its beauty. Fortunately for you, below are the best neighborhoods to stay in Paris for an incredible trip.
Where Should You Stay in Paris for the First Time?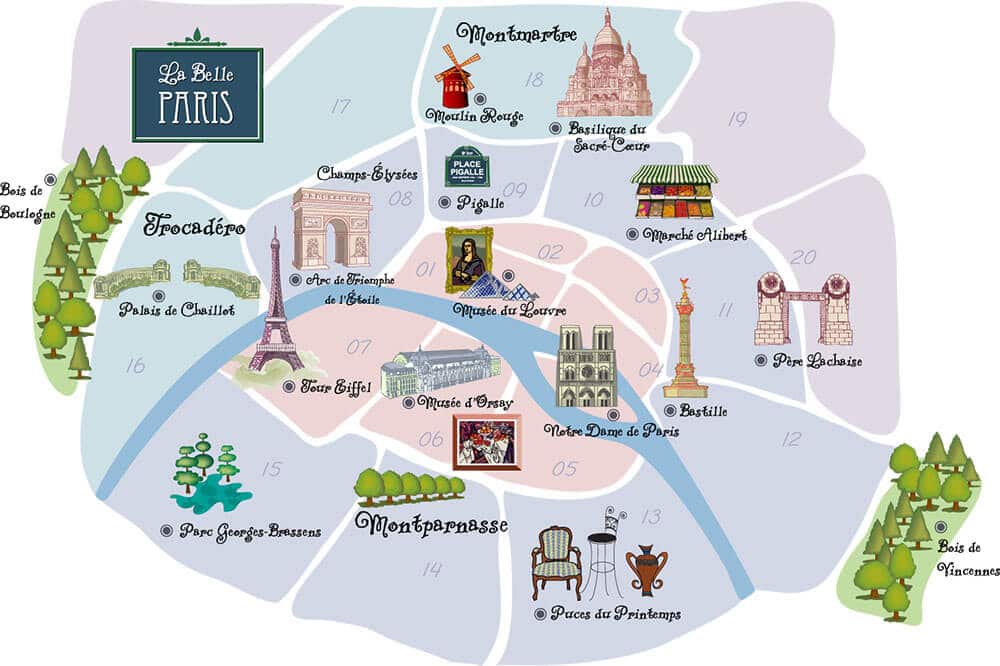 Image Source: wanderlustcrew.com
Paris is set on River Seine, which divides the city into two parts. These are the Right Bank, north of River Seine, and the Left Bank on the south.
The city is further divided into 20 neighborhoods, also known as Arrondissements. The arrondissements are numbered clockwise, starting from the north of the River Seine.
The 1st arrondissement is at the center of the city, while the 12th-20th arrondissement are in the city's outskirts. Additionally, each Parisian arrondissement has a different charm and vibe to it. In turn, this makes choosing which neighborhood to stay in Paris quite challenging.
Fortunately, although Paris is a big city, its city center is very walkable, allowing you to easily sightsee different attractions, landmarks, shopping areas, and restaurants.
Taxis and public bikes are also available within the city. In addition, the well-connected and reliable Metro system allows you to tour areas not within walking distance easily.
That said, below are the 8 best neighborhoods to stay in Paris.
Eiffel Tower / 7th Arrondissement - Where to Stay in Paris for First Timers
The 7th arrondissement is home to the famous Eiffel tower. This neighborhood is great for first-time visitors to the city. In addition, the amazing Parisian neighborhood features gorgeous and luxurious residential areas and hotels.
Set in the heart of Paris, the 7th arrondissement is always bustling with tourists during the day, and for good reason. The neighborhood has many great tourist attractions like the Eiffel tower and the Invalides.
Additionally, you can spend a lazy afternoon resting and people-watching at the Champs de mars.
There are plenty of museums to see and marvel at in this area of Paris. These include Musée d'Orsay, Musée du Quai Branly and Musée Rodin. The Rue Cler street market is also a great stop in the Eiffel tower arrondissement if you want to try out delicious foods and drinks.
The 7th Arr. offers a true Parisian feeling, making it one of the most popular neighborhoods by tourists. Besides the amazing attractions, this area has many luxury hotels and restaurants. However, it is also quite expensive compared to other arrondissements.
You will also realize that most hotels in the area are not located near the Eiffel tower. However, they provide a great Eiffel tower view from your hotel room window or balcony.
Surprisingly, the 7th Arr. does not have a bustling nightlife as it is during the day. This makes it super convenient to retire to a quiet night of rest in your hotel room. However, if you want to enjoy the city at night, check out other areas like Le Marais and Saint Germain des prés.
Best Hotels in the 7th Arrondissement:
Best Luxury hotels: Hôtel & Spa de Latour Maubourg, Le Narcisse Blanc Hotel, Hôtel Juliana Paris

Best mid-range hotels: Hôtel de la Motte Picquet, Pullman Paris Tour Eiffel and Le Pavillon Hotel

Best budget hotels: Best Western Au Trocadéro, Hotel Longchamps Elysees and Hotel Royal Phare
Le Marais / 3rd and 4th Arrondissement - Where to Stay in Paris for History, Shopping, and a Bustling Nightlife
Image Source: svadore.com
Le Marais is a historic and hippie district in Paris. Occupying the 3rd and 4th arrondissements, this area of Paris has gorgeous architectural buildings and incredible medieval streets.
Le Marais boasts many art galleries and designer stores, making it a great stop for admiring art and history and shopping for yourself, friends or family. In addition, you will find stunning restaurants where you can enjoy a meal or a drink.
Most people you will meet in the 3rd and 4th Parisian districts are hippy, younger, and trendy. That said, there's something for everyone in this neighborhood, from famous attractions like Musée Picasso and Place des Vosges to the Centre George Pompidou showcasing contemporary art.
The Notre Dame Cathedral is also within walking distance, making the neighborhood one of the best locations to stay in Paris.
Le Marais also features a diverse culture and is home to the Jewish and LGBTQ communities in the city. It is also a great location if you want to party and take delight in Parisian nightlife.
Where to Stay in the 3rd and 4th Arrondissement:
Best Luxury hotels: Le Pavillon de la Reine & Spa and Hotel Dupond-Smith

Best Mid Range hotel: Hotel de JoBo

Best budget hotel: Marais Home Hotel
Saint Germain / 6th Arrondissement - Best Place to Stay in Paris for Families and Nightlife
Located on the Left Bank, Saint Germain des prés is the perfect neighborhood if you're traveling with children. The 6th arrondissement gives the classic Parisian feel and is away from other busy parts of the city like the Eiffel tower.
Locals and tourists love this district for its historic architecture and charm. There are many art-filled galleries and restaurants waiting to be explored. In addition, you will find charming cafés, and boutique designer stops in different parts of the district.
Saint Germain district is home to green spaces like Jardin du Luxembourg, where you and your little ones can run and play around. You can also enjoy a late afternoon picnic here after visiting the Notre Dame and Musee D'Orsay, which are within walking distance.
Besides being great for tourists traveling with kids, the 6th arrondissement has an inviting and bustling nightlife. This is perfect if you want to enjoy all the fun and live action at night in the many pubs around the neighborhood.
However, unlike other arrondissements, Saint Germain des prés is relatively expensive to live in, thanks to its central location. That said, you can still enjoy your stay in the neighborhood's luxurious, mid-range, or budget hotels.
Where to Stay in the 6th Arrondissement:
Luxury hotels: Hôtel D'Aubusson

Mid-range hotel: Hotel Le Placide Saint-Germain Des Prés

Budget hotel: Holiday Inn St-Germain

Family hotel:
The Louvre / 1st Arrondissement - Where to Stay in Paris for Luxury and Sightseeing
The 1st arrondissement is the most central and oldest district of Paris. Here, you are within walking distance of famous attractions like the Louvre Museum, the Notre Dame cathedral, Centre Pompidou, and the Ponte Neuf.
Place de la Concorde is yet another must-see area in the 1st district. In addition, you can visit Jardin des Tuileries for a picnic or people-watching after a morning of sightseeing.
The Louvre neighborhood is perfect for first-time visitors looking to experience a luxurious Parisian trip. The 1st Arr. features high-end dining restaurants like Verjus and Spring. In addition, you will find some of the best luxury hotels in the city center.
Being right in the center of Paris, the 1st arrondissement has a lot of conveniences to offer. However, keep in mind that such conveniences come at a price, making the Louvre the most expensive district in Paris.
Unless you need to be close to major attractions in the city, you will find that staying in other neighborhoods will be more affordable and convenient. This is because hundreds of metro lines connect Paris, giving you easy access to different locations and attractions.
Where to Stay in the 1st Arrondissement:
Best Luxury hotels: La Clef Louvre, Mandarin Oriental, and Le Meurice

Best Mid-Range hotels: Hôtel De La Place Du Louvre, Hotel Moliere and Hôtel Regina Louvre

Best Budget hotels: Hôtel Le Presbytère, Hotel Crayon Rouge

Boutique Hotel: Nolinski Paris
Latin Quarter /5th Arrondissement - Best Neighborhood to Stay In Paris for History and Budget Hotels
Image Source: discoverwalks.com
Latin Quarter is the 5th arrondissement in the city. It is rich in history, culture, and a growing student body.
The 5th arrondissement is perfect if you're looking to stay in central Paris but away from the hustle and bustle of the city. Here, you will get to enjoy more laid-back, authentic Parisian vibes.
The Latin Quarter has its own uniqueness and charm. There are cobblestone streets and calming leafy squares, allowing you to walk and take in the district's architecture, including Gothic spires and Roman ruins.
Since it is in a central location, you are not far from major tourist attractions, say in the 1st arrondissement. This is because the city has many metro lines that make visiting Paris a breeze.
Other areas you can visit while in the 5th arrondissement include Luxembourg Gardens, Pantheon, and The Eglise Saint-Séverin Saint-Nicolas.
The Latin Quarter is also loved for its wine bars and restaurants. After a lazy walk admiring art and architecture, you can indulge in budget foods and cheap drinks. In addition, you can visit the Rue Mouffetard market street or browse one of the many kitschy souvenir shops.
The 5th arrondissement is more relaxed and allows interaction with the locals. For this reason, it is more cost-friendly and has many budget-friendly hotels perfect for your stay, especially if you are visiting Paris on a budget.
Best Place to Live in the Latin Quarter:
Luxury hotels: Hotel Monge, Hotel Parc Saint Severin and Hôtel Montecristo

Mid-range hotel: Hôtel des Grands Hommes

Budget hotels: Hotel Parc St. Severin and Hotel Le M Saint Germain
Champs Elysees / 8th Arrondisement - Best Neighborhood for Shopping
Champs Elysees, also known as the 8th Arrondissement, is the best neighborhood if you're looking to enjoy fine French dining and lots of shopping. Set on the Right Bank of River Seine, Champs Elysees is home to several world-famous attractions.
These include the Champs Elysees, Place de la Concorde, Arc de Triomphe and the Grand Palais. You can spend a day here browsing the different boutiques, walking down the beautiful streets, or enjoying a cup of coffee in the stunning cafes.
Paris is just as beautiful at night as it is during the day. Fortunately, you can enjoy scenic views of the city at night by going up Arc de Triomphe.
Where to Stay in the 8th Arrondissement:
Luxury hotel: Hôtel du Rond-Point des Champs-Elysées

Mid-range hotel: Best Western Plus Hotel Sydney Opera

Budget hotel: Hotel La Sanguine
Montmartre /18th Arrondissement - Best Place for A Romanctic Getaway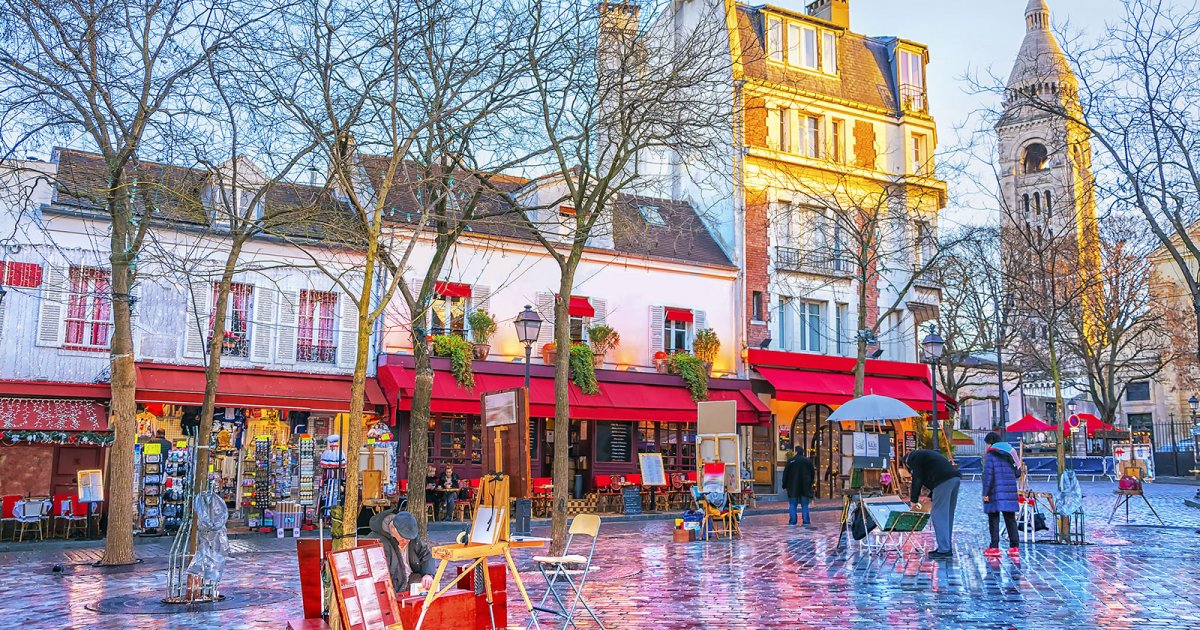 Image Source: mywowo.net
Montmarte is a beautiful and unique district located on the outskirts of Paris. The 18th Arrondissement has a bohemian charm and feels like old Paris. In addition, it is the neighborhood to visit if you want to experience authentic Parisian culture.
The romantic district of Paris is filled with cobblestone streets and beautiful houses. Although it is far from major tourist attractions, Montmarte is a great neighborhood to stay in Paris if you don't mind taking a Metro to places like the Eiffel tower and Notre dame cathedral.
Once a haven for artists like Van Gogh, Picasso, and Dali, this art district has different attractions to see. These include Sacre Coeur and Mouline Rouge. You can also visit the Place du Tertre, only a few minutes from the Sacre Coeur.
Besides the tourist hotspots, Montmarte has inviting, quiet streets perfect for flânering. Other areas to see in Montmarte include Vigne de Montmartre, the only vineyard in Paris, and Place du Calvaire.
Best Hotels in the 18th Arrondissement:
Luxury hotel: Maison Souquet

Mid-range hotel: Mercure Sacre Couer

Budget hotel: Odalys City Paris Montmartre
South Pigalle / 9th Arrondissement -
Image Source: theculturetrip.com
The 9th Parisian arrondissement is a great location for tourists looking to catch a local Parisian vibe. South Pigalle, once the red-light district of Paris, has grown into a popular tourist destination over the years.
Unlike other neighborhoods, South Pigalle is more suitable for returning tourists to Paris than first-time visitors. This is because there are fewer attractions to see in the district. However, the 9th Arr. is close to Montemarte and sites like Sacre Coeur.
The best hotels in South Pigalle are a blend of mid-range and boutique hotels. That said, the tree-lined streets, quaint cafes, and restaurants are welcoming to tourists, especially if you don't want to stay in tourist hotspot areas like the Eiffel tower.
Where to Stay in the 9th Arrondissement:
Luxury hotel: Maison Souquet

Mid-range hotel: Hotel Saint-Louis Pigalle

Budget hotel: Migny Hotel Opera Montmartre
Close (esc)
Popup
Use this popup to embed a mailing list sign up form. Alternatively use it as a simple call to action with a link to a product or a page.
Age verification
By clicking enter you are verifying that you are old enough to consume alcohol.