Which City Is Considered the Perfume Capital of the World?
30 August, 22
Tourists visiting France have often favored its famous capital and other big cities in place of small towns. Unfortunately, if this is you, you might be missing out on hidden gems and lifelong memories spread across the country.
Grasse is a good example of an often overlooked but must-visit town in France. Also commonly referred to as the perfume capital of the world, the small town is tucked away in the Côte d'Azur region of Southeastern France.
We all know how much a little perfume goes, either by completing an outfit or making you feel confident. So imagine being in a city boasting of May roses, violet, and jasmine as you walk down its streets.
That is the beauty of Grasse, not forgetting its charming old town and museums. You can also create your own perfume when visiting one of the famous perfume factories, but more on that later.
That said, let us look at how Grasse became the perfume capital of the world and home to the cult-favorite Chanel N°5 perfume.
How Did Grasse Come to Be the World's Perfume Capital?
Grasse is set between the mountains and the sea in inland France. The small town in the Côte d'Azur region has about 50,000 people. In addition, it sits North West from Cannes and South West from Nice.
Although it does not have the Mediterranean Sea by its doorstep, the perfume capital of Grass boasts rich soil, temperate weather, and sheltered fields, thanks to the surrounding hills and mountains. This climate is ideal for cultivating lush flowers like lavender, jasmine, tuberose, and may rose.
Unfortunately, the French Riviera town did not always smell perfume.
So, How Did Perfume-Making Start in Grasse?
Contrary to its current glory, Grasse started as a tanning and leather-making center in the middle ages(16th century). The small town was well known in Europe for its leather crafts, including gloves and other leatherware.
This was possible due to the many sheep and rivers in the region, making it easy to treat the hides. However, Grasse also reeked of a foul smell due to using animal excrement during the tanning process and the smell of decaying hides.
In addition, its leather products, including the gloves the French nobility wore, reeked!
Tanners began using maceration to make their leather gloves smell better in response to the foul smell. This involved dipping flowers in animal fat and leaving them for about two months to make perfume pomade.
In no time, King Henry II's widow, Queen Catherine de' Medici, started treating her leather gloves with perfume, kickstarting the perfumed gloves craze in Grass. As a result, perfume making and leather making became the two main industries in the city.
Image Source: france.fr
The 17th century, unfortunately, saw high taxes imposed on the leather industry leading to its crash. However, this led the tanners to switch to perfume making, thanks to the technological innovations during the revolution.
Towards the 20th century, Grasse gained international recognition for its perfume industry. This involved perfume manufacturers like Molinard, Galimard, and Fragonard.
Over the years, the perfume industry in Grasse has grown to include famous fragrance companies like Coco Chanel, who came up with the Chanel N°5 perfume in 1920 with the help of Ernest Beaux. Other couturiers soon came to Grasse seeking their own perfumes.
This led to Grasse being renowned as the perfume capital of the world. Other discoveries in Grasse due to perfume making include the production of detergents, essential oils, washing soaps, and food flavorings.
How to Get to Grasse, France
Besides being the perfume capital, Grasse is perfect for tourists who want to enjoy the authentic French Riviera outside the crowded coastal towns. In addition, there are many things to do in the town center as you will see below.
Grasse is about 17 kilometers from Cannes and 35 kilometers from Nice. Fortunately, you can fly into Nice Airport and make your way to Grasse by car, bus, or train.
Car
Getting around Grasse is super easy as the town is quite small. A short walk following the Center-Ville signs will lead you to a paid parking garage where you can get a car to explore the town.
Bus
You can catch a bus to Grasse from nearby Cannes and Nice towns. Zou! LER, for example, operates a bus pickup from Nice Airport to Grasse twice a day. The journey takes about 50 minutes.
Train
Traveling by train is not unusual for tourists in France, especially if you are coming from Paris. The perfume capital of the world features a train station connecting Grasse to other towns on the French Riviera.
Once in Grasse, you can get a bus outside the train station and into the town center.
Fun And Unique Things to Do in Grasse
There are many experiences to indulge in in the perfume capital of the world, among them being creating your own perfume. However, like other cities and towns in France, Grasse boasts rich history and art that can be experienced in its museums and galleries.
Below are fun things you can enjoy in Grasse
Learn the Perfume History
Image Source: museedupaysduder.com
Grasse has everything for you, whether you want to learn the perfume history, enjoy perfume making, discover your favorite fragrance, or get a sweet-smelling souvenir for a loved one.
The Museé International de la Parfumerie (International Perfume Museum) is a must-visit if you want to learn more about perfume-making in Grasse. The international museum has exhibits from over 3000 years ago.
In addition, you can enjoy smelling the roses in the museum's flower garden at an added cost.
Another great way to learn the perfume history is to tour the perfume manufacturers in the city. Fortunately, you can enjoy free guided tours in several languages at different times during the day.
Among the things you will learn on tour include the history of perfume making and the raw materials used. You will also learn the old techniques used before as well as the current techniques.
There's also a gift shop where you can buy yourself some perfume!
Make Your Own Perfume
Making your own perfume is another unique experience you can enjoy in the world's perfume capital. You can enjoy a perfume workshop from these three perfumeries; Molinard, Galinard, and Fragonard.
The workshops vary in process and range between 1 and 2 hours, depending on the perfumery. However, Molinard has a 30-minute workshop for children, which is perfect if you are traveling with your family.
The perfume workshops are also appointment based, so be sure to make your booking early.
You can also experience perfume making outside of Grasse. These include workshops by Galimard in Eze village, Fragonard in Paris, and Molinard in Paris and Nice.
Tour the Old Town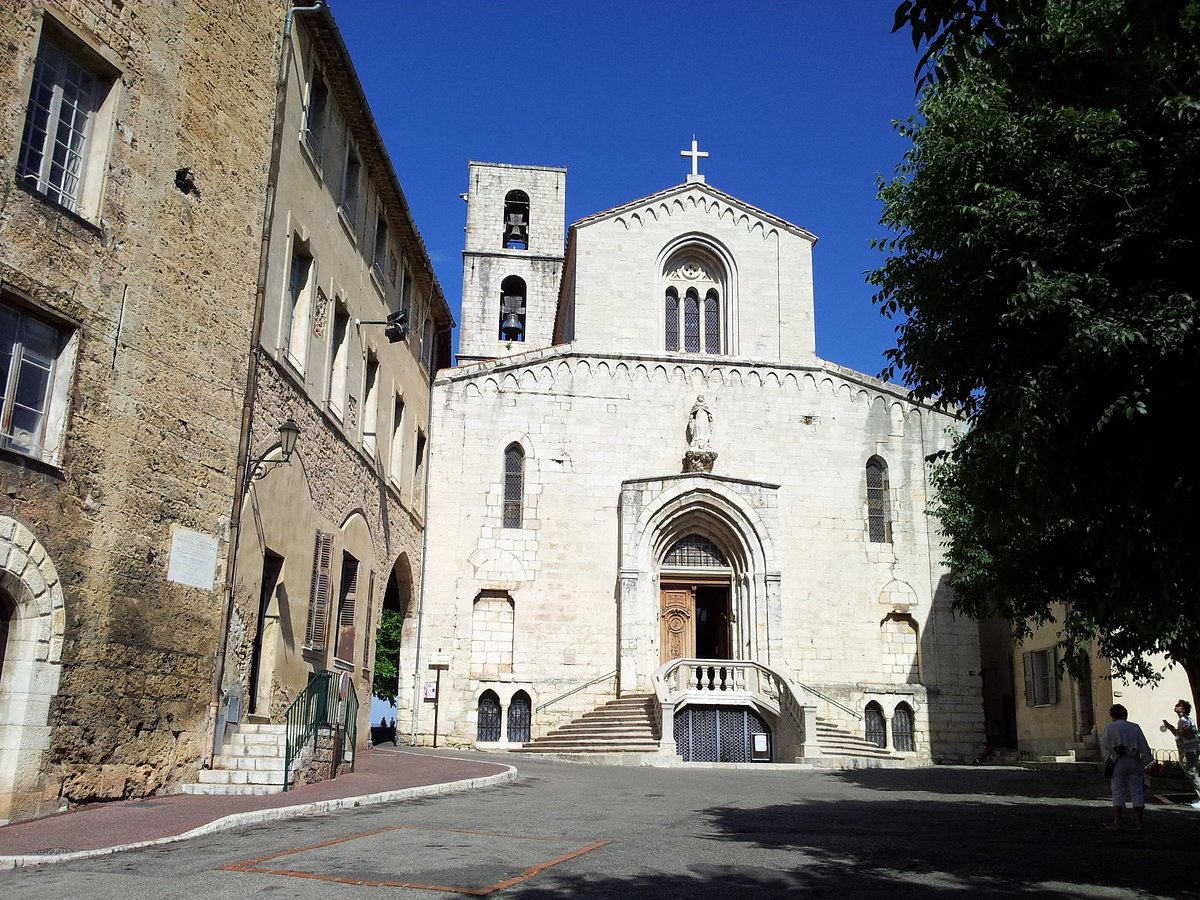 Image Source: tripadvisor.com
Grasse, France, has a lot to offer besides perfumery. The Old town, for example, gives a more authentic look and feel of the Provençal town, unlike other Riviera towns.
While most tourists will visit Grasse only for the perfume workshop, we recommend staying a night or two to enjoy more of the town.
Although the attractions are not as many as in other bigger cities, the narrow street, medieval ruins, and large squares are calming and inviting. You will also find steep staircases in the old town and buildings from the 17th and 18th centuries.
Other landmarks in old town Grasse include the Cathedral Notre-Dame-du-Puy with paintings by Fragonard and Ruebens and different viewpoints giving stunning countryside views. In addition, you can relax in Jardin de la Princesse Pauline or tour the Monument aux Morts.
If you are short on time or don't want to walk around the hilly old town, you can enjoy a tour of the town through the tourist train passing through the attractions.
Admire the Art and History
Image Source: artcotedazur.fr
French culture is rich in art and history, and Grasse is no different. For example, the  Museé d'Art et d'Histoire de Provence is a great stop for history lovers. It exhibits the history and art of Eastern Provence in a mansion dating from the 18th century.
Another great museum is Musée Provençal du Costume et du Bijou. It displays textiles, needlework, lace, and jewelry from the 18th century.
You can find the town's local art in Jean-Honoré Fragonard Villa-Museum, home to the famous French artist Fragonard. You can also find more of Fragonard's work in Musée Fragonard, which features other artists like Jean-Baptiste Mallet and Marguerite Gérard.
The Museé de la Marine exhibits traces of the life and career of François-Joseph Paul, a seaman from the 18th century.
Enjoy the Local Gastronomy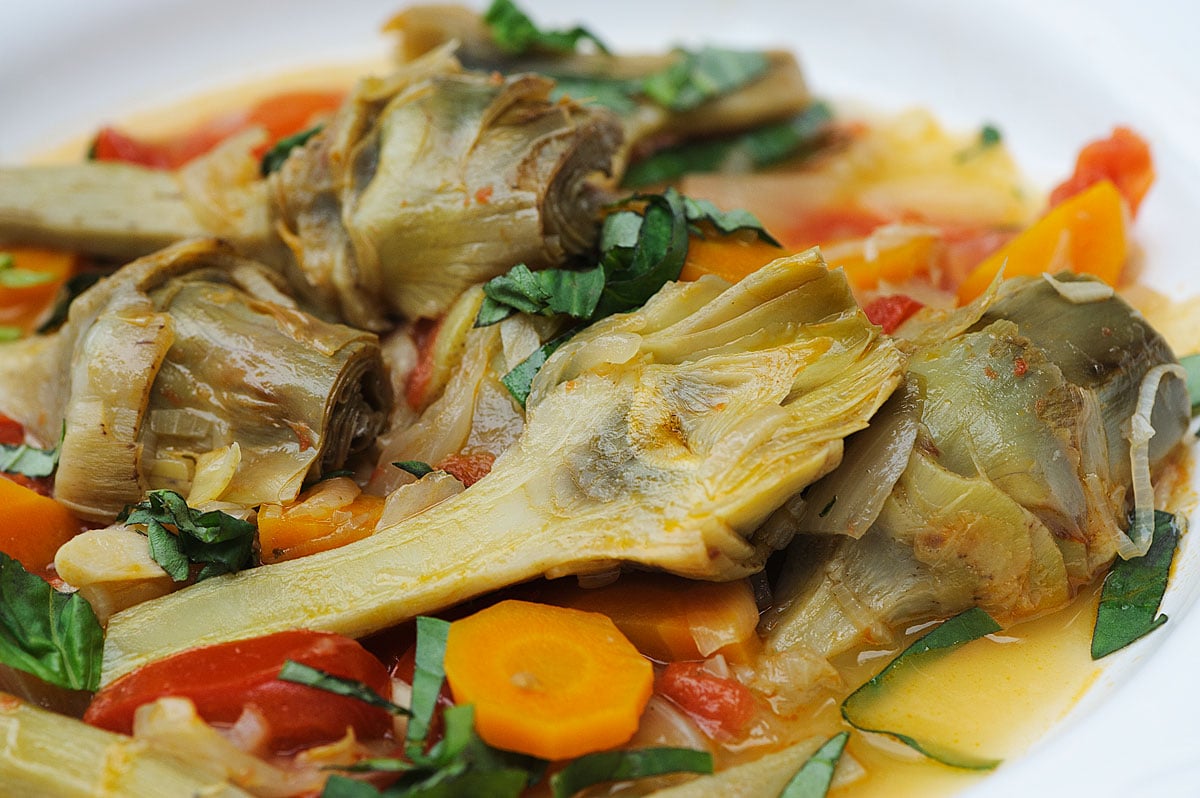 Image Source: cuisinealouest.com
Granted it is a small town, Grasse has borrowed some of its amazing and tasty delicacies from surrounding regions. For example, the Fougassette is a unique brioche paired with local orange blossom flavor. It is perfect with your morning coffee while taking in the beautiful views of the town.
Another local meal you will enjoy in the perfume capital of the world is Fassum. It is made from green vegetables, bacon, and pork stuffed in cabbage leaves. There's also the artichauts à la barigoule, a slow-cooked casserole with shallots, lemons, bacon, and artichoke hearts.
These meals pair well with a glass of rosé sourced from Côtes de Provence.
If you visit Grasse during Christmas, be ready to enjoy their seasonal Pumpkin pie enhanced with orange blossom water and vanilla essence and beautifully decorated with latticed pastry.
Visit Domaine de la Royrie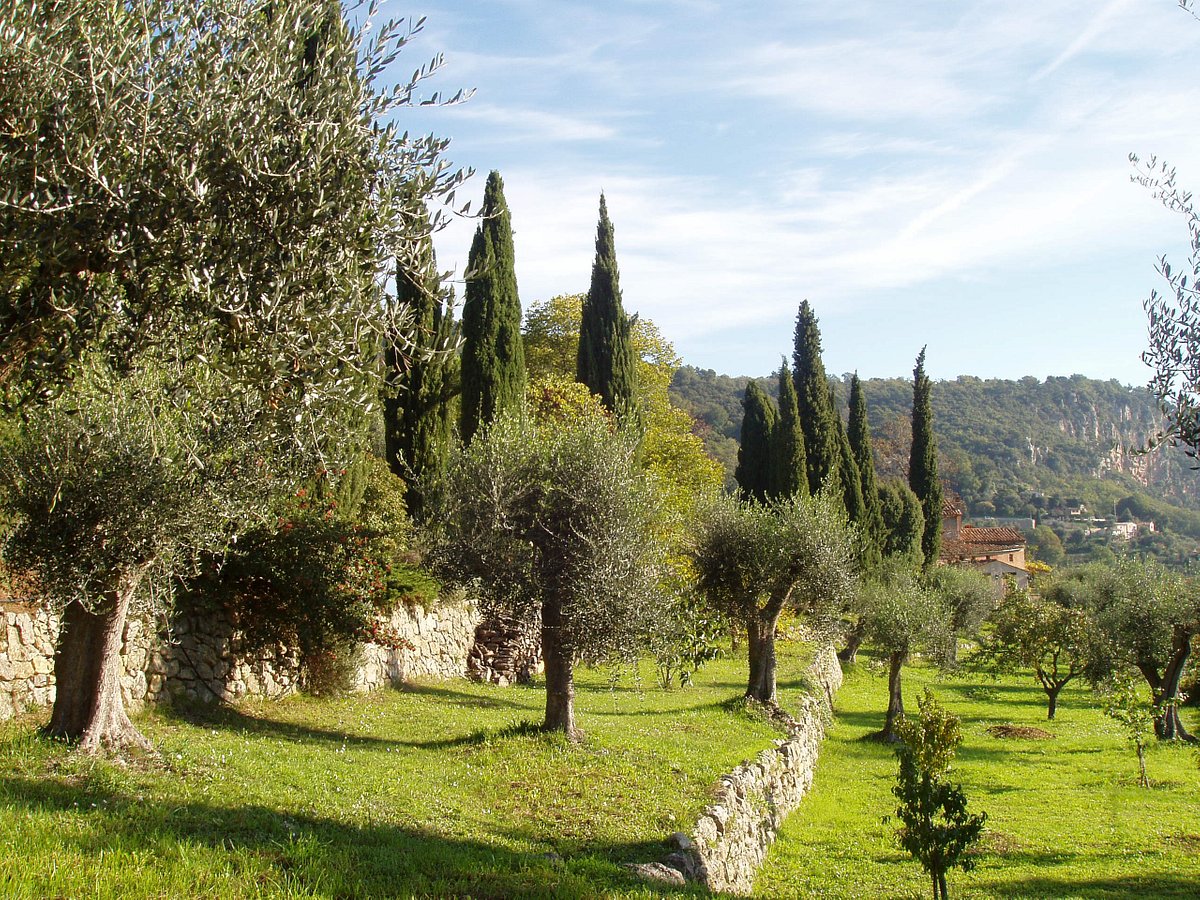 Image Source: tripadvisor.com
In addition to having the best weather for flower fields, the climate in Grasse is also perfect for olive cultivation. Domaine de la Royrie, for example, is an olive grove on the Grasse hillside planted in the 1400s by the monks of Lérins Abbey.
A tour of the grove will teach you the history of the olive trees, how the soil is maintained, and also how the olives are picked and pressed. Additionally, you will see small houses and a vegetable garden from the 1700s where the peasants working in the vegetation lived.
No olive tour is complete in Grasse without a tasting. In Domaine de la Royrie, the owner hosts a tasting session where you identify the scents and flavors in their olive oils as you would in wine.
Explore La Domaine de Manon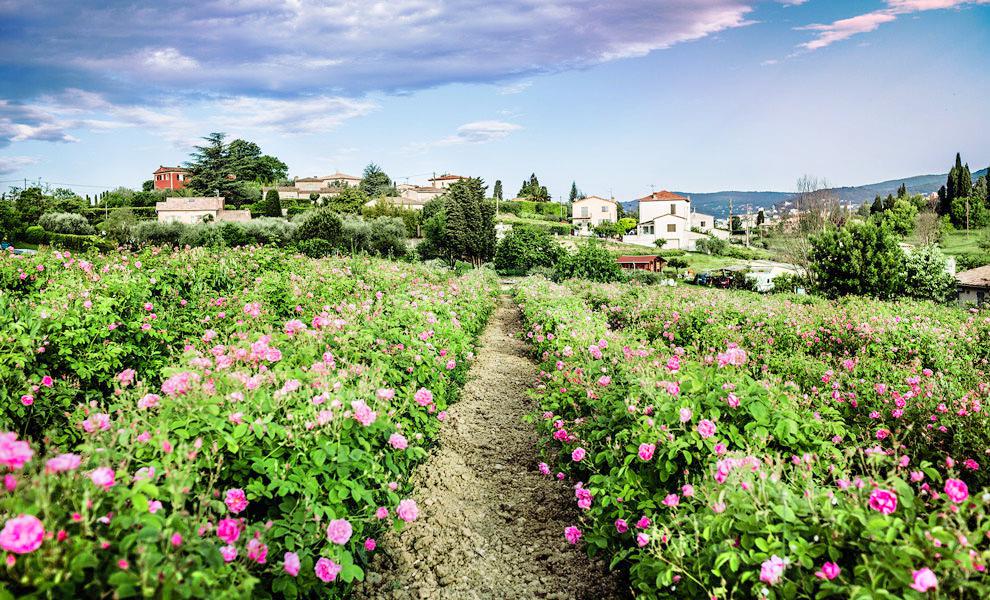 Image Source: trip.com
Domaine de Manon is another great stop while in Grasse. Here, you can tour the flower plantations filled with tuberose, jasmine, lavender, and May roses. In addition, the flowers in the plantation are used in Dior fragrances.
However, keep in mind that flower harvests are seasonal when planning your trip. For instance, Jasmine is harvested from August to October, while May rose is planted between May and June.
You can also get jams and rosewater in the shops at Domaine de Manon.
Experience the Beautiful Sceneries at Gorges du Loup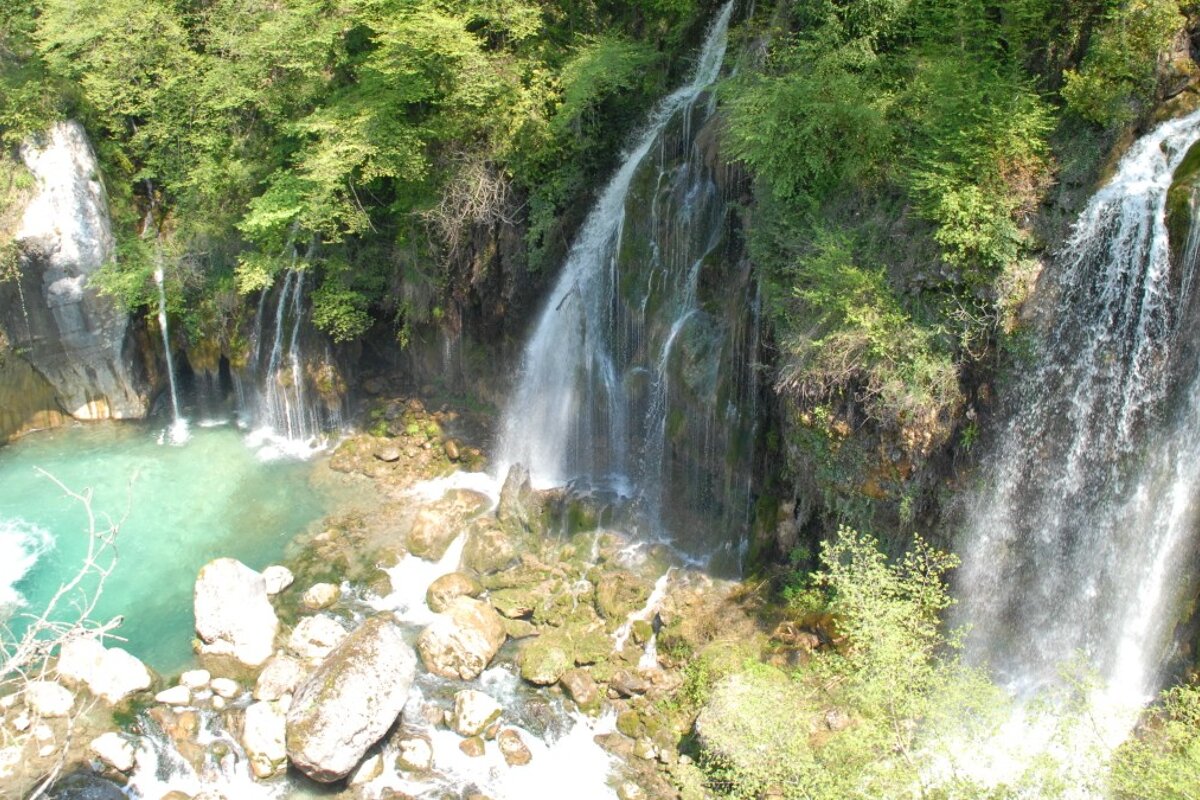 Image Source: seeprovence.com
Fifteen minutes north of the city center will lead you to the gorgeous scenes at Gorges du Loup. This is perfect for connecting with mother nature, especially after long travels.
You can choose to experience the scenes while in your car, driving along the routes of the river. Alternatively, you can go through the visitor center to see enchanting views of one of the waterfalls and the turquoise blue water as it hits the pools.
Canyoning is also a great choice for adventure lovers. However, you will need to wear a wetsuit and other safety gear. That said, the scenery at Gorges du Loup is worth exploring, especially the wall of limestone rock and three waterfalls.
Conclusion
Although a small town in France, the perfume capital of the world has a lot of art, history, and perfume to offer. Not only will you learn the history of perfume through a free tour, but you also get to create your own scent.
If this is not enough, the museums are rich in art and history while the streets are picturesque, floral, and inviting.
Feature Image Source: artisansofleisure.com
Close (esc)
Popup
Use this popup to embed a mailing list sign up form. Alternatively use it as a simple call to action with a link to a product or a page.
Age verification
By clicking enter you are verifying that you are old enough to consume alcohol.